j&dragon group's pop-up restaurant in China cures loneliness
J&Dragon Group's 'Lonely Noodle Shop' is a themed pop-up restaurant in Shanghai, China, which creates an immersive and soothing dining experience for "lonely" people in the city. Through a bold fusion of light, color and a bowl of noodles, the restaurant provides time and space to heal urban phenomena of loneliness and social anxiety in the late hours of the night. The concept offers diners the opportunity to enjoy a meal in the comfort of their own company enclosed in a private one-person booth, while simultaneously enjoying live collective entertainment with other diners.
one-person catering booths surround center stage | all pictures by CreatAR
a minimalist and immersive dining experience defined by light
Open only late from 8 p.m. to 2 a.m., the ephemeral restaurant 'Lonely Noodle Shop' reiterates its slogan: "Treat yourself to a bowl of noodles to take a break from reality. start the trip, the team at J&Dragon Group, intersperse the store facade with polished metal scaffolding clad in light strips, creating a small spatial constraint that evokes a psychological response and sets the stage for the journey ahead. Upon entering the main space, a series of sinuous illuminated lines gradually guide visitors into their assigned rooms, 'a dimly lit journey that, between shadow and light, immerses body and mind in anticipation of the next journey.'
A curved revolving door marks the transition from the dimly lit hallway to the dining room. When the door opens, the lights come on, revealing a self-contained one-person booth enlivened with a healing green tone covering the surfaces. In the cabin, a fusion of light, music and color completely engulfs the space and diner's body and mind. In front of the table, a screen initially displays an emotionally evocative greeting, followed by a climactic immersive experience of the "Blind Box Show" performed live nightly on the center stage beyond. In a distinct design, the singular compartments encircle the stage, allowing diners to dine in privacy and comfort, while collectively enjoying the entertainment.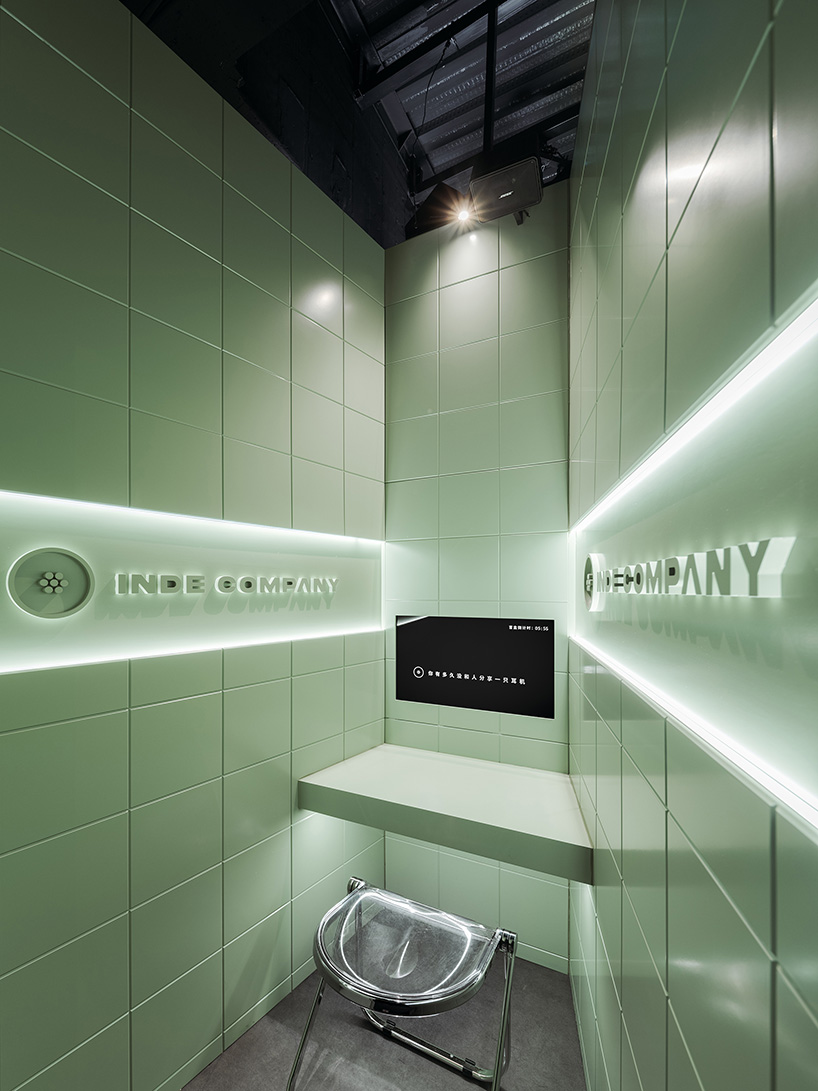 the pop-up restaurant aims to offer a unique late-night dining experience to 'lonely people in the city'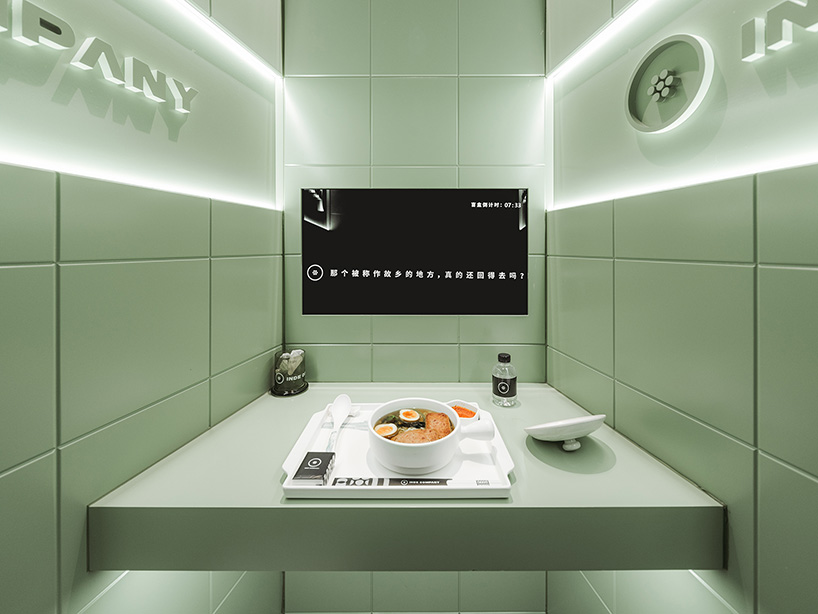 light green surfaces immerse diners in a comfortable and relaxed atmosphere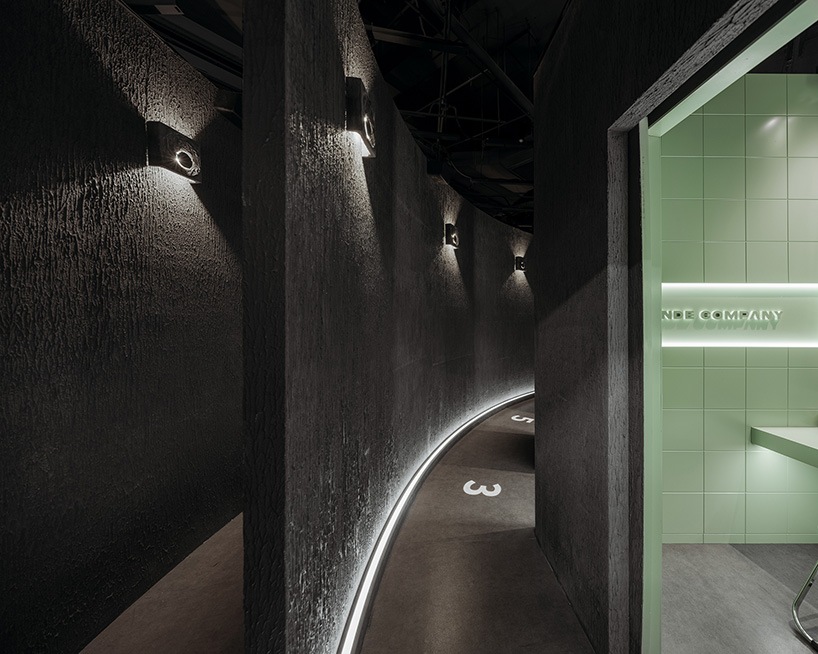 linear light strips guide visitors from the entrance to the pits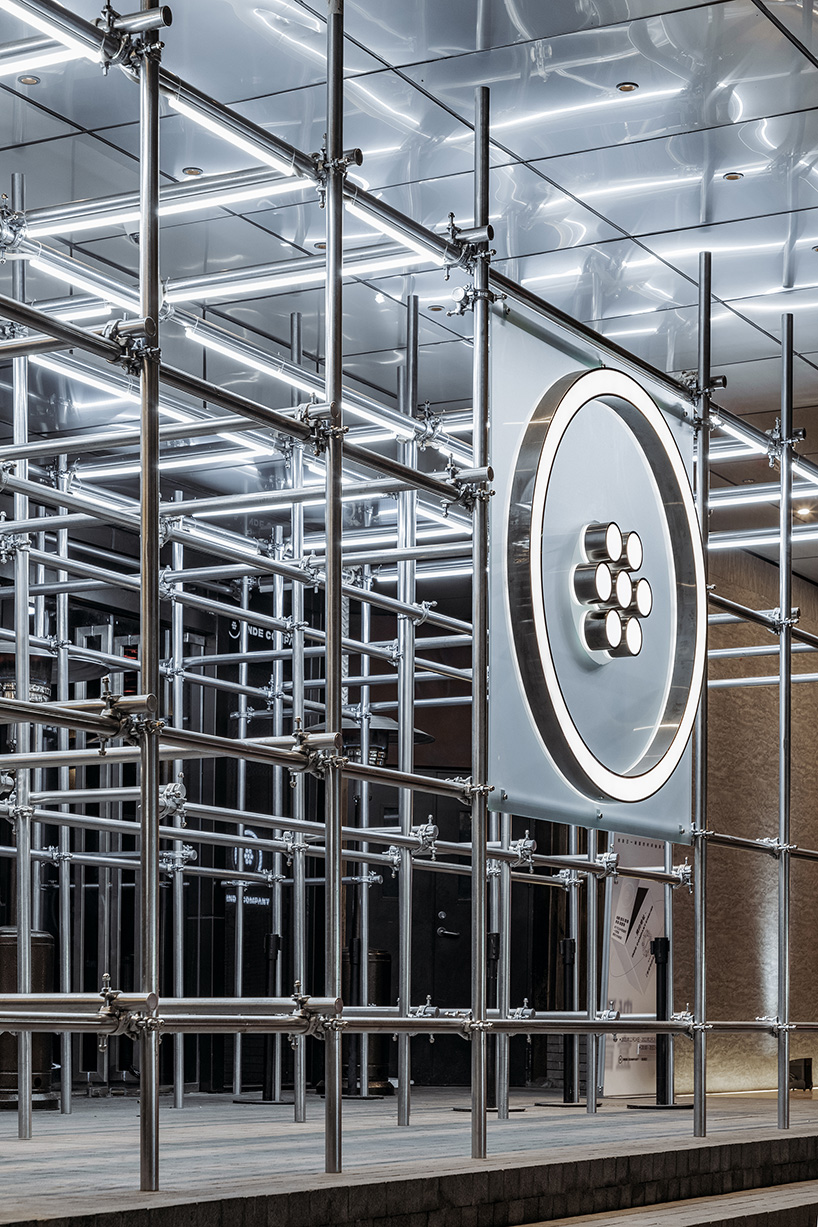 polished metal scaffolding clad in luminous light strips defines the storefront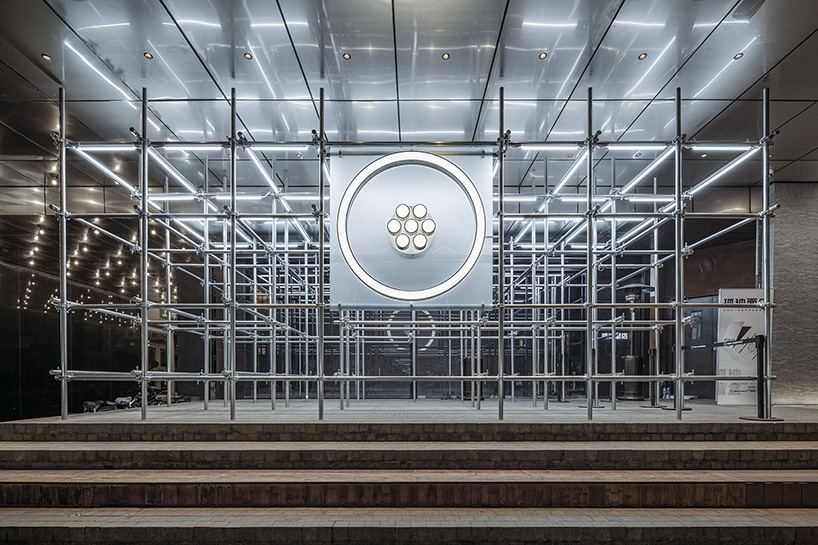 the vibrant entrance forms the only lighted interface on the street late at night